Accurate Processes from Method Creation to Data Analysis
The Smart Database™ series, which are specialized for various fields, and Smart MRM™ function, which optimizes sensitivity, can be used to accurately create methods for ultra-trace analysis and reliably achieve high-sensitivity analysis from MRM measurements. LabSolutions Insight™ software, designed to support quantitative analysis of multianalyte data, enhances the throughput of data analysis from simultaneous analysis of multiple components in trace concentrations. The extensive accuracy control functions enable decisions to be made based on the easy-to-understand visualization of quantitative analysis and accuracy control results.
Smart MRM
Automatic Method Creation
The Smart MRM technology automatically creates methods with measurement times optimized for each component based on the Smart database. The Automatic Adjustment of Retention Time (AART) function incorporated in the system estimates retention times with high accuracy. When creating methods for simultaneous multicomponent analysis, the complicated process of configuring measurement parameters made it difficult to prepare appropriate methods. By using the Smart MRM function, however, it is possible to automatically create methods in which data are acquired with high sensitivity only during the elution time of the target components. In addition to MRM methods, SIM methods can be created.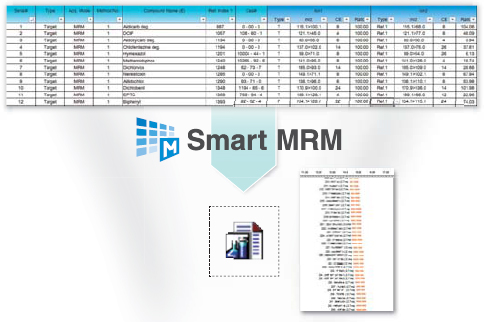 Smart Database Series Supporting Accurate Quantitative Determinations in MRM Analysis
Information about optimal transitions is preregistered in the Smart Database. That means Smart MRM can be used to create optimized methods without having to evaluate analytical conditions. The Smart Database provides powerful support for performing highly reliable analysis.
| | | | |
| --- | --- | --- | --- |
| Smart Pesticides Database™ | | Smart Pesticides Database™ | Smart Metabolites Database™ |
In particular, the "Smart Environmental Database" is extremely useful for analysis of environmental pollutants, which require trace analysis.
Not only are MRM information and stable isotope labeled compounds (IS) for target analysis components registered in the Smart Environmental Database, but also the optimal columns for separating each compound are set, so trace analysis can be smoothly performed without having to set the conditions for each compound.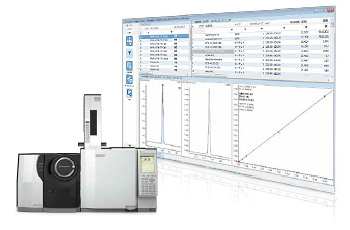 LabSolutions Insight
LabSolutions Insight has been designed to drastically simplify the review process and transform data processing.